Turn out your Pockets/Kindle the Flame Online Community Exhibition Day 5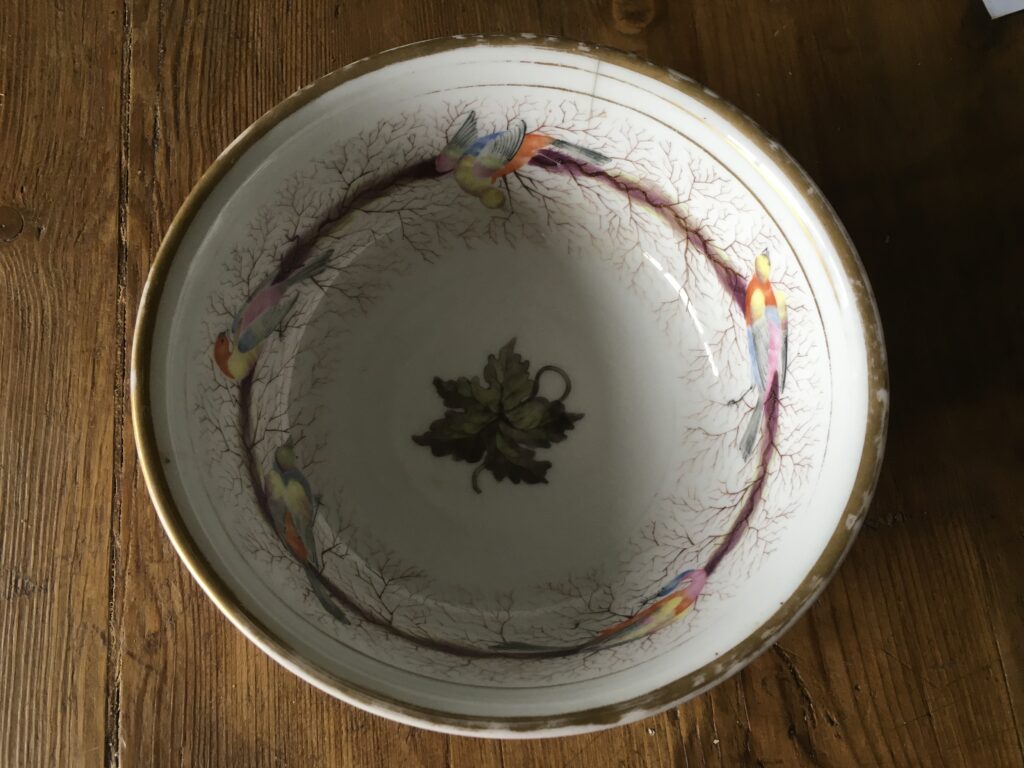 'This bowl was given by my mother's first cousin Roland Lumby to my son John Simon Chilver Donovan, being the eldest son in my family and a direct descendant of the Chilver family. I currently 'curate' the bowl on John's behalf.
The pasted-on paper on the base reads:
1805
This bowl was bought by Mr John Clementson for his grandson T. F. Chilver for
a christening bowl.
Extract from Mr Clementson's diary Apl 17.
"At Jane's – saw her. No christening bason for tomorrow – went to Colebrookdale shop in Oxford Road, bot her one i [?] plate".
Mr Clementson (Deputy Sergeant at Arms)
His daughter Jane married Mr Samuel Chilver
1803
The following is the relevant page from my Ancestry.co.uk research. Roland Lumby, who gave my son John the bowl, also passed on to me a very comprehensive family tree to the Ranking / Blake Humfrey side of the family (see the bottom branches of the tree). He was a grandson of Harvey Ranking.

Thomas Farquhar Chilver (Born 11th April 1805 in Westminster, London, died in 1875 in Sussex) was my, Christian Donovan (Davidson)'s great-great Grandfather. He had five sisters. A Fellow of the Royal College of Surgeons, he was, according to census results, living in Westminster, St James in both 1851 and 1861. His wife, Lucy Eliza (née Clarke) was one of four people killed in a train crash near Streatham, London in 1863. She had been travelling on the train with Thomas returning to London from Brighton.
Thomas's father, Samuel Chilver (1764-1824) was also a Surgeon, pupil of Sir Walter Farquhar (cf. List of Fellows & Members of the Royal College of Surgeons of England). He practised at 14 New Burlington Street in London.
Thomas's mother, Jane Clementson (1780-1871) was the daughter of John Clementson, who presented the 'bason' [sic].
John Clementson was Deputy Serjeant at Arms at the House of Commons between 1770 and 1804. He kept a diary whilst there and this is preserved in the Houses of Parliament archive.
The Serjeant-at-Arms of the House of Commons is responsible for security matters concerning the House of Commons. The Serjeant, whilst in the Commons overseeing proceedings, can also escort MPs out of the chamber by order of the Speaker of the House.
John Clementson kept a family diary as well as his 'official' work one.
He was married to Eleanor Clementson.
The bowl came from the 'Colebrookdale shop on Oxford Road'. I can find no record of a shop of this name, but it might possibly have been in Oxford Street, London. Colebrookdale or Coalbrookdale was another name for Coalport Porcelain, based in Shropshire. This company was founded in 1795, so the family Christening basin is a relatively early piece oftheir work. Unfortunately because of the paper pasted on the bottom, I cannot see the maker's mark, but there may well not have been one.
1805, the year of Thomas's Christening was a turbulent one for Britain. George III was King, William Pitt the Younger was Prime Minister. The Napoleonic Wars and the Anglo-Spanish War were ongoing. Six months after Thomas's birth, Nelson defeated the French and Spanish fleets at the Battle of Trafalgar. He was killed in that battle.
Wikipedia lists the highlights of the year as:
* 20 January – London Docks open.
*21 February – Charles Manners-Sutton confirmed as Archbishop of Canterbury.
*18 April – Ordnance Survey begins systematic publication of its General Survey of England and Wales ("Old Series") maps to a scale of one inch to the mile (1:63,360) with those for Essex
*4 June – the first Trooping the Colour ceremony at the Horse Guards Parade in London.
*3 August – the annual cricket match between Eton College and Harrow School is played for the first time.
*21 October – Napoleonic Wars: Battle of Trafalgar – British naval fleet led by Admiral Horatio Nelson defeats a combined French and Spanish fleet off the coast of Spain. Admiral Nelson is fatally shot.
*6 November – news of the victory at Trafalgar and Nelson's death reaches London.
*26 November – the Ellesmere Canal's Pontcysyllte Aqueduct is opened in Wales, the tallest and longest in Britain.
Further information:
1. John Clementson
John Clementson was Deputy Serjeant at Arms from 1770 to 1804. In this diary he recorded his daily duties and the proceedings of the House of Commons. The account of his tasks was very detailed, for example in the first entry on 2 April 1770 he describes, "When the Chairman […] begins to put the Question, you put your hand upon the lock of the Door, and no Member can after that come in or out". Clementson performed his work with enthusiasm and efficiency, and records suggest that he was seventy years old when he finally retired. In recognition of his faithful services, the House unanimously voted to make provision for Clementson during his retirement. He bequeathed his office to his son on 5 May 1804. Source: https://www.parliament.uk/about/living-heritage/evolutionofparliament/parliamentwork/offices-and-ceremonies/collections/serjeant-at-arms/john-clementsons-diary/
Note: there is some confusion as to John Clementson's dates of birth and death, because his son, also called John Clementson, later became a Deputy Serjeant at Arms.
In the Gentleman's Magazine for 1805 (couldn't find the exact date) I found this report: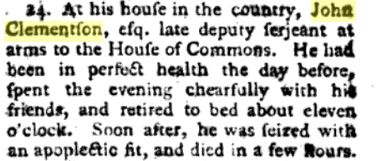 2. Coalport porcelain
Source: The Editors of Encyclopaedia Britannica
Alternative Title: Colebrookdale porcelain
Coalport porcelain, ware from the porcelain factory in Shropshire, England, founded by John Rose in 1795. "Colebrookdale Porcelain" was used sometimes as a trade description and a mark because the factory was located at Coalbrookdale. Coalport's glazed bone china was in great demand and improved greatly in quality about 1820 with the refinement of a hard, white porcelain. A Willow pattern and transfer prints were characteristic until a growing tendency toward richness of style was confirmed by the introduction of a maroon ground in 1821. John Rose II, succeeding in 1828, lavishly imitated the French Sèvres style as well as the styles of Chelsea and Derby, with versions of their respective turquoise, claret, and mazarine blue. Gilded and molded ornamental ware with mass incrustations of flowers,
after Meissen, was frequent. By 1830 Coalport was among the leading potteries of England.
In 1849 a fine Sèvres pink (imitative rose Pompadour and called rose du Barry) attracted many orders; plausible imitations of German Meissen or copies of Sèvres and Chelsea with their marks were numerous. Some eggshell porcelain was made beginning in 1845. In the 1860s Coalport turned to domestic ware and the Victorian decoration of earlier biscuit (unglazed) china. Interest in fine porcelain revived in the 1880s, and production of elaborate pieces has continued to the present.
3. Coalport Porcelain
source: https://antique-marks.com/coalport-marks.html
Very early Coalport porcelain was unmarked, (c1805 and before) and in reality marks were rarely used before 1820. However, the porcelain collector should note that early CoalBrook Dale marks are extremely rare and very collectible'.
Christian Donovan