An Evening of Poetry with special guest Alison Brackenbury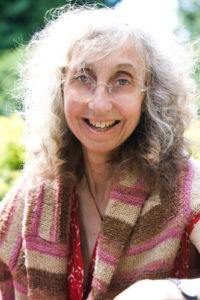 On Thursday 27th September at 7pm, we will be hosting an evening of poetry with special guest Alison Brackenbury.
Alison is a widely published, award winning writer, whose family tree has strong roots in Wales. She appears regularly on BBC Radio 3 and 4. She will be reading from her latest book, Aunt Margaret's Pudding, is inspired by recipes collected by her grandmother. She explains:
'This is my latest, very special book. Its ingredients come from another book: a small, black oilskin notebook written by my grandmother, Dorothy Eliza Barnes – Dot. I knew Dot as a shepherd's wife, but in her Edwardian youth she had worked as a professional cook. Here were her recipes, begun a century ago: 'Puzzle Pudding', 'Feather Cake'…
I closed Dot's book and began to write poems. They are not nostalgic. In the 1930s, she fed the unemployed men who tramped round the Lincolnshire farms. The poems of 'Aunt Margaret's Pudding' have been widely published in journals (including 'The Spectator' and 'The New Statesman'). Few things reach deeper into our lives than food!
'Aunt Margaret's Pudding' also offers, in prose, Dot's eventful life, with its sorrows, its humour, (and chimneys, cleaned with gunpowder!). Readers who do not care for poetry have pored over this. They have also appreciated an ingredient which is unusual for a poetry book: recipes!
A selection of Dot's original recipes appear as illustrations, in her own meticulous handwriting. There are also carefully updated and tested versions, which can be used successfully even by cooks as erratic as me, who do not immediately know the equivalent of Dot's 'sharp oven' in Centigrade. I particularly recommend 'Flamberries Pudding', veined with luscious jam… Please do not burn your mouth!'
Praise for Alison Brackenbury:
'Brackenbury's empathetic poetry reflects this unique and very tasty slice of social history'. Jane Anderson, The Radio Times.
'What Sweetness – ' as 'a mouth-watering programme'. John Waite on 'What Sweetness Touched Your Tongue?' Radio 4's 'Pick of the Week'.
'A beautiful and evocative account of a life told through the language of food'. Kim Salmons in 'The Observer'
Alison's reading corresponds with Narberth Museum's Women of West Wales (WOWW) project; a 3-year celebration of women's history funded by Arwain Sir Benfro's LEADER programme and the Heritage Lottery Fund. The evening will conclude with an opportunity for local poets and enthusiasts to share their own poetry on the theme of 'my Grandmother'.
Five minute slots can be reserved by emailing [email protected] or calling 01834 860 500.
Tickets for the evening can be purchased below at a cost of £5 per person. Refreshments will also be available on the night.